There are various methods for repairing the damage that can be caused to one's car through auto collisions or more minor 
assaults such as backing into stationary objects. The methods used will depend upon the amount of damage to the panel and also upon the level of experience of the company that you rely upon to perform the repair, and Bridgend dent repair companies can help you.
If repairable, the work will fall into one of two categories; paintless dent repair (or PDR) or paint restoration. For damage too severe for repair it may be necessary to replace the entire damaged panel of the car and both types of dent repair are available in Bridgend.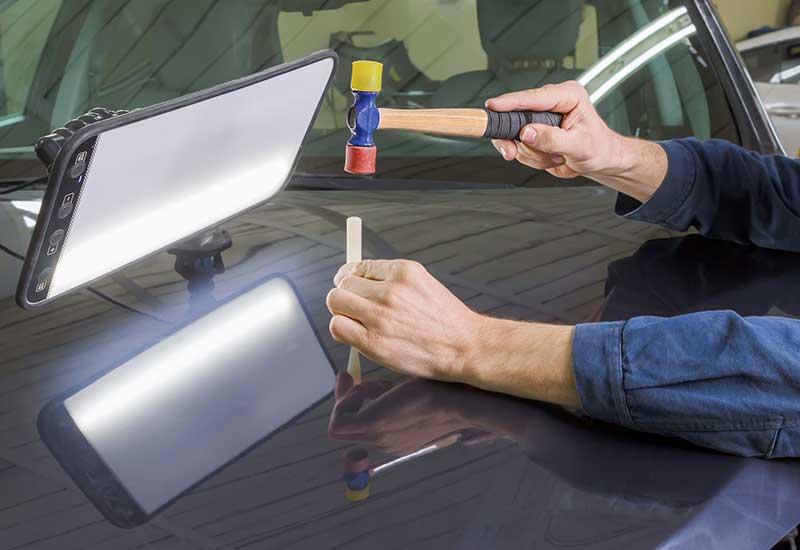 PDR is the cheapest of the repair techniques and yet gives the best finished results. With this, the dent is pushed out, starting from the outer edges using the specialist tools available. A PDR light or reflecting is used to view the surface of the panel, allowing a skilled technician to see where damage remains by causing shadows to be cast. This allows for further adjustments to be made, ensuring a perfect finish.
If there is damage to the paint or the paint is not flexible enough to move with the metal as it is pushed back into place, then the use of PDR will not be possible. In this situation the dent itself will be pushed or pulled out, and various tools will be used to smooth the surface. It may be necessary to fill the dent, or some areas of the dent, and then finally paint will be applied.
This is where PDR really wins out. Any time you have to match paint to the colour of the surrounding area, there is a risk of minor colour differences. They may be almost unnoticeable but to some the difference can be seen.
Not only this, but any paint restoration will lower the value of a car-highest value always being maintained by those that retain their original paint work. PDR work can be significantly quicker than paint restoration, because it lacks the need for this matching of paint which in and of itself can be time consuming. With so much less work being needed you can often have your car ready again in a day, or may be able to call out a mobile repair company who will actually come to you to perform the work such as Dentmaster of Bridgend.
Other factors will be involved in the decision as to whether PDR is appropriate. If body work has already been performed on that particular panel for instance, it may not be strong enough to undergo it again. Or if the metal has been severely stretched in the dent, or a dent occurs at the edge of the panel then PDR may be inappropriate. Bridgend car dent repair company, Dentmaster can advise you before work begins.
Choosing a work shop that can offer PDR when possible has many benefits. Less work needs to be done, saving you money and enabling you to get your car back quicker. However when this is not possible, choosing a skilled repair company will still enable you to see the best results possible for your car.